Complete Guide to Mobile App Heatmaps
Heatmaps are a proven way to know what users actually do while on your app. They are visual representations that aid in understanding user behavior and user experience.
With the help of this guide, you will:
Discover 6 ways to use mobile app heatmaps.
Learn to increase conversions with heatmaps.
Set up heatmaps for your own app.
Sneak peek at what you will find in this e-book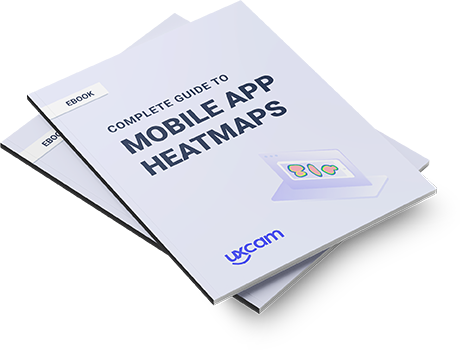 If you aren't benefiting from heatmaps analysis yet, you should be. Understand where your users are struggling with the design of your app and make confident data-driven decisions.

Don't let your users get frustrated and provide them with the experience they deserve. Heatmaps for mobile apps open up new opportunities for user behavior analysis.
Learn to read a heatmap.
Understand the difference between web and mobile app heatmaps.
Know how heatmaps fit into the analytics landscape.

Trusted analytics solution for world-leading brands:

CUSTOMER STORIES

We now use UXCam to validate our product ideas and test out hypotheses with raw, actionable user insights.
Housing.com
Gaurav Jain Lead Product Manager
Read the case study
CUSTOMER STORIES
If something goes wrong within the app, UXCam is the first port of call to understand what's going on. Playing a key role across multiple teams, UXCam is now an integral part of the launch and live ops strategy.
Costa Coffee
Daniel Tomlinson Global Digital Analytics Manager
Read the case study
CUSTOMER STORIES
Customer story text goes here...
Lori Hahn
Read the case study